SERVICES
WE OFFER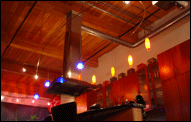 Big Electric primarily services residential home buyers and builders, specializing in:
· Service upgrades
· Remodels
· Light fixture installation
· Safety inspections.
CLIENT
TESTIMONIALS
"I've worked with Dave for 5 years and his professionalism and sophistication has been a constant.
We've worked with many electricians and contractors over the years, but Dave goes beyond his job as an electrician and installer; he functions as an expert in the trade.  
That is what makes him such a great partner to our firm - our clients truly enjoy having him around.
Dave is not just another trade contractor, he has become a friend and a trusted advisor. Thanks Dave!"
Clay Lyon
Lyon Construction + Design, LLC