ABOUT
Big Electric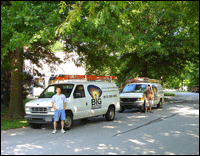 Big Electric is a Kansas City-based licensed and bonded residential service specialist offering over 30 years' combined experience in the electrical industry. Big Electric primarily services residential home buyers and builders, specializing in service upgrades, remodels, light fixture and ceiling fan installation, safety inspections and any electrical problem that might occur in your home or business. In addition to the residential work, Big Electric can also take a project from the initial evaluation stage through construction management and start-up, as the company has completed many commercial tenant finishes and build-outs.
Big Electric was founded by Master Electrician and Owner Dave Broderick. Dave graduated with a degree in business administration from Kansas University. After working in the finance and commodities industry for six years, Dave recognized his passion was not in the corporate cubicle but rather in the electrical industry. "It took me a while to realize I enjoyed working on projects with my hands," says Dave. "I get enjoyment coming into people's homes, outlining an electrical plan to bring light into a room, implementing it and knowing I've met my customers' expectations. Improving their homes and pleasing my customers is a priority for me – and that's what makes me love going to work every day."
Not only is Big Electric large in services, capabilities and customer base, Big Electric is also large in stature. Standing 6'6", Dave has created a robust company built on providing innovative, cost-effective and quality solutions. He takes great pride in offering customers a safe and clean environment. Whether a bath remodel, kitchen update or fixture installation, Big Electric understands improving a home is a very personal thing. It means that workers will be in your house, making modifications to the place where you live or work. "Our goal is to minimize disruptions in your life," Dave says. "When we start a project, we stay with the job until it is completed. We encourage frequent communication so that problems and changes can be resolved without delay and without further cost to the customer."
There are many electric companies here in the Kansas City area. The main difference between Big Electric and those businesses is the level of professionalism you will experience with our team. While cleanliness and quality are essential, trouble-shooting customers' issues in a fair and articulate manner – all while meeting their budget requirements – is fundamental in developing a long-term relationship with our customer base.
Our mission is to maintain and heighten client satisfaction; and, to achieve this, we strive to provide innovative electrical solutions and applications through quality materials and superior craftsmanship, with integrity top-of-mind.
Over the years, Big Electric has built strong relationships with many companies and organizations in the Kansas City area. Big Electric is a member of the Better Business Bureau and the National Association of Remodeling Industry.
You can rely on Big Electric to provide innovative, cost-effective solutions. Thank you for giving us the opportunity to bid your next project!
Sincerely,
Dave Broderick
Master Electrician & Owner